The books I wrote:
(written in Hebrew)
Please mark the books that you would like to order and I will contact you via email to schedule shipping and payment.

Payment can be transferred via PayPal.

the price for each book is 25 USD, shipping via Israeli postal services included.
A Biblical novel that tells the story of the prophet Hosea and Gomer the harlot- their childhood, their meeting and their complicating love.
Written from a Biblical worldview the novel seeks to connect the modern world with the original, ancient spirit of the God of Israel in the Bible. Thus, skipping two thousand years of exile and remoteness, returning to connect the infinite ancient with the twenty first century.
There is a river coming out of Eden to water the garden. Einat, a young Israeli woman, finds a white horse in a field near her home. The horse gallops and brings her to a new land, to the Garden of Eden.
It is a fantasy novel, a figment of the imagination. At the same time, the place described cannot be reached only by imagination. This is a place beyond.
What does this place look like? What is in there? What are the challenges it raises? The dangers? The promises? "The Riverland People" takes you there.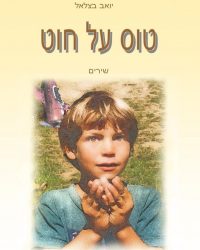 A poem collection. The poems tell a story and are linked in a joint story line. It's a journey of spirit and soul, of exploration and discovery that is different than usual, and creates a special poetic language. At its peaks there is admiration and joy of discovery. Along the way It moves through internal changes, difficulties and challenges. At the bottom, it faces illness and pain.
It is the mysterious journey of the believer along with his weaknesses, his ordinary experiences and feelings, on the path to his objects of faith.